Exhale…for now: August 2023 Market Update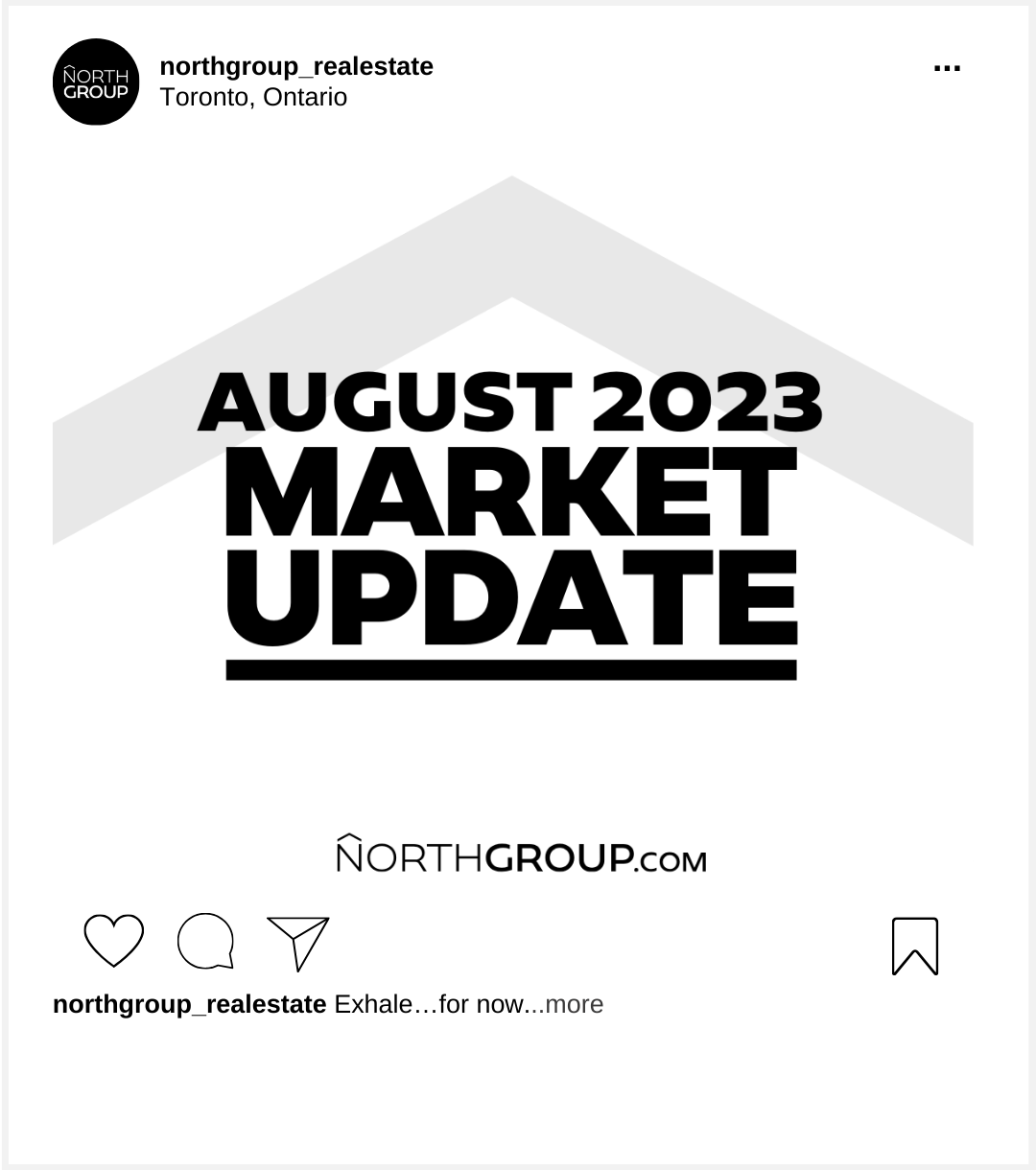 You could almost hear the exhales across the country yesterday morning as Canadian homeowners and property investors breathed a sigh of relief. Why? The Bank of Canada announced that they will continue to hold the current overnight interest rate of 5% and not make any further rate increases, at this time.
Exhale. For now. Well, until the next announcement on October 25th…👀
So What Does This Actually Mean?🤔
Sellers, this could be the news you've been waiting for. Many pockets across the GTA have been experiencing quieter listings with less showings and fewer open house guests or buyer inquiries thus resulting in longer time on the market before getting a satisfactory offer. Although, as with all GTA real estate, these factors are neighbourhood specific and no two are created equal, so be sure to ask your North Group agent about your property and area specifically.
That being said, today's news will likely trigger an increase in activity on your current or upcoming listing because there have been a lot of buyers waiting out the summer heat (literally and figuratively) and will be throwing their hat in the ring again with both this news and the traditional fall market activity upon us.
Buyers, listen up! You might be in for a bit more competition now if you didn't take the leap over the summer slow down. But don't worry, even though there might be a few extra active buyers alongside you, there will also typically be more homes for sale to choose from which could keep things balanced out, for the time being. And if you've really been on the sidelines watching and waiting, pick up your phone and call your mortgage broker and North Group agent asap.
By The Numbers 1️⃣2️⃣3️⃣
The Toronto Regional Real Estate Board (TRREB) reported that due to higher borrowing costs and continued economic uncertainty, August was a very quiet month in the world of real estate. The average sale price, along with the number of homes sold across the GTA edged lower than the month prior. Here are the numbers you need to know:
Sales are up 0.83% since July
but down 5.2% since last year
New Listings are up 16.2% since last year
but down 11.51% since July
Prices are up 0.3% year over year
but down 3.31% since last month
The average sale price is now: $1,082,496
What Matters Right Now🤩
Remember this: just because we got good news from the Bank of Canada, that doesn't necessarily mean that homes are about to get cheaper, it just means they aren't getting any more expensive. Yet.
Our best advice for our clients right now?
Watch your spending.
Cut expenses.
Save where you can.
And most of all, remember that home ownership and investment opportunities in the Greater Toronto Area always have, and always will, stand the test of time (and the test of market changes). We can show you the data.
Now more than ever, lean on us to answer questions about your short or long term real estate plans. We've got you covered!🫵💪